Michellia Love Story
Celebrating the Unique Beauty of Every Love Story
At Michellia, we honor commitment in its many forms across all genders, ages, races, and personalities. Every authentic Michellia couple serves as our everyday inspiration for creating heirloom jewelry as timeless and unique as your own love journey. To share the power of love with us, please send your pictures and stories to 
lovestory@michellia.com
. We are truly honored to take part in such important milestones in your lives, and cannot wait to celebrate many more beginnings with you and your loved ones for years to come.
John and Megan | From John
We could not be happier with this gorgeous ring! We picked it out together and at the time we never knew how complicated our wedding journey would become. We postponed our party for 2021 (due to COVID-19), but in the meantime we had a small socially distant ceremony with immediate family this summer. We didn't have the dress or cake or flowers or basically anything else that we picked out, but we did have this ring, which made our intimate ceremony feel all the more "real."
While nothing else has gone as planned, this is the ring of my dreams and I am so happy to see it on my hand every day. I get compliments all the time. We are both so pleased with this purchase! The transaction was made so easy and communication was excellent. We always felt taken care of. Everything was just perfect!
Zach and Ryanna | From Ryanna
Zack and I were childhood friends, but not long ago we recently reconnected and started talking again and things between us just clicked. We had talked about our future, but I had no idea what kind of special surprise I would be in for that day we hiked up to Garabaldi Lake, (in Whistler BC, Canada). The hike was roughly 20 Kilometres round trip, and I was thinking to myself that the breathtaking view was making it all worthwhile. When we finally found a good place to sit and enjoy the lake, Zack wrapped me in a big bear hug. As I was in the middle of nearly begging him if we could finally sit down, he got down on one knee and asked me to be his wife. I was stunned as the ring sparkled and glistened in the afternoon sun and the reflection off the lake. It was beautiful. And in that moment I pretty much forgot about how sore my legs were. He later told me also that I unknowingly carried the ring the entire hike in MY backpack! I treasure my ring and the constant reminder it brings not only of that special day, but all of the adventures that Zack and I have shared and will continue to share throughout life, outdoors or otherwise. Thank you to everyone at Team Michellia for the incredible work you do - day in and day out!
Paul & Rochelle | From Paul
Rochelle and I have been together for 6 years. The ring I ordered arrived unexpectedly early, a day before we left for a month-long trip to Turkey, so I took the ring along and waited for the right moment. The small beach where we spent most of our time hosts pop up dinners in the evening. We made reservations without expectations for the evening, and it turned out to be unbelievably magical and romantic. The beach restaurant strings up lights and pulls out a couple tables right next to the sea after the sun sets. We had our own cozy, secluded table where the waves almost lapped at our feet, and the moment was so natural and lovely.
Our relationship has been years of comfortable, easy friendship where we share excitement and joy over everything. I was so happy to see how much Rochelle loved this unique, delicate ring. The unexpected moonlit dinner and beautiful ring made this moment a special memory that we will always treasure.
Jonny & Xolani | From Xolani
We met in 2014 through singing at our church together. The first time that I sang on stage somebody tapped me and told me "you did a great job up there", little did I know that would be my future husband! We dated for almost three years and we had a blast! In April 2018 everything changed...I was asked to be in an interview about couples and relationships and I said yes. We went over to the studio, answered many questions about our relationship in front of the camera. The final question was "Where do you see yourself in five years time?". I answered truthfully that I'd hope to be married but at the right time. Jonny then went on to talk about us and our relationship and he got down on one knee! I was so shocked and couldn't believe that the whole interview was set up just for the proposal. One of our friends who is an amazing photographer came in and we had our engagement shoot right outside! The sun was setting and the lighting was perfect on that Saturday afternoon. I couldn't stop looking at my beautiful ring! I fell in love with the ring a year before we got engaged but Jonny tricked me into thinking he had got something else. Thank you Michellia for all that you have done for us. You have played such a special part in our love story!
Karen & Julia | From Julia
Julia proposed to me on our 2 1/2 anniversary, January 13th. I got back from an international trip that day, and Julia picked me up from the airport and took me straight to the art museum. She had snuck a series of cards into my luggage, one for each day I was gone. When we got to the art museum the final card was sitting on the end of the bench. When I finished reading it, Julia got down on one knee and asked me to marry her!!
Exactly one month later I decided it was my turn! Julia is originally from Hawaii and LOVES anything to do with the ocean. I decided on Valentines Day weekend to take her to an aquarium she had never been to before. FINALLY we got to the shark tube where loads of fish, sting rays, and sharks swam above and around us. Once everyone had cleared out I asked her to marry me. The ring glowed under the aquarium lights!! We LOVE our rings. We get so many kind compliments from friends and strangers alike!
Hailey and Garrett | From Hailey
I am floored with my new engagement ring, and I want to share it with the world! After six and a half years, my best friend, my high school sweetheart, and my future husband asked me to marry him on top of Panorama Ridge in British Columbia, Canada overlooking the amazingly blue water of Garibaldi Lake. As I stared out at the Sphinx Glacier to the left and the snow capped mountain ranges to the right, I started thinking about all of the beautiful places I had ventured to with the only man I have ever loved. It was only fitting that my now fiance was setting up a camera behind us to film his proposal atop the most gorgeous mountain we had ever climbed together. As soon as I saw that shimmering, glittering floral ring in the little white box, the breathtaking view of Panorama Ridge was immediately overshadowed by the (literally) breathtaking image of the love of my life down on one knee. With tears streaming down my face, he told me how the most exciting adventure in his life is the one he partakes with me every day. Without the ability to utter a single word, I shook my head excitedly up and down as he asked me to be his wife. Thank you so much for the role you played in making this moment so special! We love the ring and cannot stop staring at it every time it sparkles on my little finger.
Michael and Haley | From Michael
Haley and I have been big fans of museums since day one. We bought year long Balboa Park Museum passes on our first date (we obviously thought we were going somewhere). The space, natural history, and aerospace museums were all really cool, but Haley absolutely loves art museums. So in crafting the proposal I got several of our friends who are more artsy than me to help create pieces inspired by our relationship. I transformed the front of our house into an art studio-esque space and totally surprised her when she came home from hanging with a friend. I had this final blank canvas at the end to talk about how I wanted nothing more than to spend the rest of my life creating something beautiful with her, and that we really do have a blank space to create whatever we want out of life together. I pulled the ring out of the celtic wooden box and then I got down on one knee and proposed to the woman of my dreams. Thank you so much for the part you played in our engagement. She absolutely ADORES the ring!
Sabrina and Slava | From Sabrina
After 19 years since our first meeting as kids, Slava popped the question on December 17th, 2017! He had a friend invite us to a "fancy brunch" and told us to meet up at an old historic manor. Slava then proposed in the gardens, to which I yelled "OMG IS THIS REAL?" and of course "YES!" There turned out to be a photographer there that Slava had hired to capture everything and also do a photoshoot with us afterwards. Slava also had our friend secretly kidnap our pug, Henry to bring him by to join in on the photos! We then went out to a nice restaurant by the waterfront for a (late) lunch to celebrate, just the two of us. I spent the whole day after the proposal (heck, the whole month!) just staring at my ring and new fiancé in awe.
Thank you, Michelle, for the most unbelievably perfect ring to brighten up an already perfect moment~ We both knew immediately that it was the one after coming across it online nearly a year ago and now that Slava's proposed, we can't believe how much more beautiful it is in person!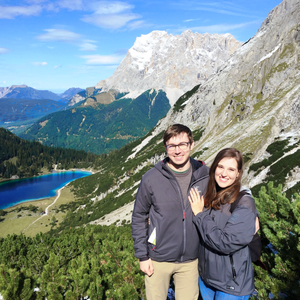 Kathryn & Jordan | From Kathryn
Jordan and I have been together for 9 years. We love to travel and explore the outdoors. In the autumn of 2017, we hopped on a plane to visit the rugged Tyrol region of Austria. On the first morning of the trip, we started off with a hike to the top of a nearby mountain.The initial climb was easy, but the path quickly got steeper and disappeared under a layer of fresh snow. I scrambled on my hands and knees against the boulders and ice while Jordan encouraged me to keep going... I started to get very worried we wouldn't survive the climb! Fortunately, we safely reached the peak of the pass and were rewarded with a sweeping view of the icy and remote Drachensee Lake.So there on the edge of the deep blue lake, under the towering gray peaks of the Alps, Jordan went down on one knee in the snow. As the ring box opened, the moissanite stone glittered in the sunlight like pure ice. Of course, I said YES!
Thank you to Michelle for providing the perfect centerpiece for a spectacular moment in our relationship - your design sparkled across mountains, forests, and palaces for the rest of our trip!
Emilee & Phil | From Emilee
Phil and I met as skydivers six years ago at our local airport (and still skydive today!). We hit it off on New Years Eve that year and the rest is history! About 5 years into our relationship, Phil proposed at the bottom of a waterfall during our vacation to California and Oregon with the moonstone ring of my dreams. Tears fell and I replied with a resounding YES! We had a year and a half engagement before we decided to ditch our wedding plans and elope in Phil's favorite city - Moab, Utah.
The change of plans was pretty short notice, but my wedding band arrived just in time - So did our parents and one of our good friends who officiated the wedding. All together, 10 of us stood cliff side as we made our personal vows overlooking Dead Horse Point with our 3 legged dog right beside us. It couldn't have been more perfect.
Thank you, Michelle, for your part in our story!